Nature
"Drop everything you are doing, it's been accepted!"
A study led by a group of IRB Barcelona researchers has just been published in Nature. It unveils the role of TGFβ and PD-L1 in preventing the immune system from attacking colon cancer and derived metastases. These findings may contribute to overcoming the current limitations of immunotherapy and turn it into a major treatment option for this disease. Daniele Tauriello, postdoctoral fellow in the Colorectal Cancer Lab and first author of the article, tells the story behind the paper.
PLoS Genetics
Some genes lay behind both tumour initiation and metastasis
Researchers in Jordi Casanova's Development and Morphogenesis in Drosophila Lab have found out that the genes involved in metastasis can also lead to the development of a primary tumour. Metastases and the first stages of tumours are usually studied separately since the cell functions involved are very different. These findings show that some tumours are conferred metastatic capacity from their very outset, and may bring about changes in the approach used in cancer research.
eLIFE
Transporter LAT2 contributes to age-related hearing loss
A joint publication by Manuel Palacín and Virginia Nunes (IDIBELL) points to the amino acid transporter SLC7A8/SLC3A2 as a key element in the development of inheritable, age-related hearing loss. One in three people aged 65 and above suffer from this condition. Published in the journal eLife, the study contributes to a better understanding of the mechanisms underlying hearing loss and may help identify treatments that delay or reverse this condition.
 

Horacio moreno
Horacio Moreno has recently joined the ranks of the Innovation Department as our Entrepreneur in Residence. Over the next year, he will team up with us to boost the entrepreneurial spirit in our community, identify those projects with the highest transfer potential and help new spin-offs take their first steps. Don't miss this interview!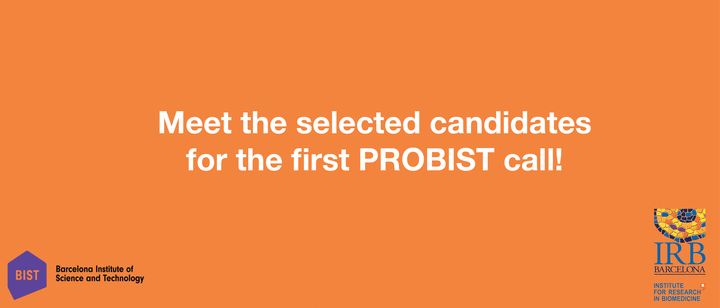 PROBIST
First PROBIST candidates join IRB Barcelona
The PROBIST programme, which is supported by EU competitive funding, gives BIST members the opportunity to recruit talented international postdocs for their research programmes. As a result of the first PROBIST call, five scientists will be joining IRB Barcelona over the next few months. The second PROBIST call is now open. Read the news!
 

ADMIN EVALUATION
On 29-30 January, the Administration team welcomed a panel of five international experts in administration management for its first peer-review evaluation. The Evaluation Panel came away with an extremely positive impression of the staff that make up the Administration team and pointed out that "IRB Barcelona has navigated some challenging pressures extremely well and is preparing itself for those in its future."
 

Susana Ros
After completing a PhD in the Metabolic Engineering and Diabetes Group, under the supervision of Dr. Joan Guinovart, Susana Ros chose to pursue her career in the UK, first as a postdoc at the London Research Institute-Cancer Research UK and now as a research associate at the University of Cambridge. In this interview, Susana talks about the memories of her PhD student days at IRB Barcelona, some prizes she has won, and the importance of being part of our Alumni Community.
NEW ACCESS for IRB Barcelona members
Online Alumni Directory
Whether you are pursuing career opportunities, moving to a new city, or looking to reconnect with colleagues, the online IRB Alumni community can help you achieve your goals. The Alumni Directory is a private, password-protected site aimed to help connect current members of the Institute with the Alumni community. The IRB Alumni Directory is open to alumni, students, faculty and support staff of IRB Barcelona.
If you are an IRB Barcelona staff member, please access the directory using your internal user credentials. If you are a member of the IRB Alumni Network, please use the username and password you provided when signing in or register here. Please help us keep the directory updated by checking your data. For any questions or enquiries, please email irbalumni@irbbarcelona.org.
 

vi PER vida
The 10th "Vi per Vida" charity wine tasting event was held on 25 February at the Llobet i Gurí Factory in Calella to support cancer and metastasis research at IRB Barcelona. The event, which brought together more than 150 people, is run by the sommelier Xavier Ayala, who combines his passion for wine with a desire to make a difference after the death of his father from lung cancer metastasis when Xavier was just nine years old. Previous activities in 2016 and 2017 raised €6,500 for IRB Barcelona research.



| | |
| --- | --- |
| PRIZES AND AWARDS | |
Èric Matamoros
"Jóvenes Investigadores" Award
Èric Matamoros, a 2016 Crazy About Biomedicine fellow, has won one of six "Jóvenes Investigadores" prizes awarded by the Spanish Ministry of Education, Culture and Sport. His project, "Impact of methylation and demethylation pathways on the physical properties of DNA", was done as a part of his "Treball de Recerca" while he was participating in the Crazy About Biomedicine programme at IRB Barcelona, and was selected from a total of 179 projects from 255 students. Congratulations Èric!
Salvador Aznar Benitah
Understanding dietary fat
Worldwide Cancer Research has awarded group leader Salvador Aznar Benitah funding for his project "Studying and targeting diet-responsive metastasis-initiating cells", which aims to identify the dietary fatty acids that promote metastasis and their mechanism of action. His group will combine metastatic models on modified diets with state-of-the-art quantitative metabolomics, proteomics, epigenetic studies, and bioinformatics analyses, using patient-derived samples of oral carcinoma.
Ángel Nebreda
Unraveling the p38 MAPK protein
Ángel Nebreda, group leader of the Signalling and Cell Cycle Lab, has also been awarded funding from Worldwide Cancer Research for his three-year project, "Role of p38α MAPK in cancer cell metabolism during tumour development". This project aims to determine how cancer cells get their energy and thus find ways to shut them down. His group plans to explore the potential therapeutic interest of combining p38α inhibitors with metabolic drugs in mouse models of breast and colorectal cancer.
| | |
| --- | --- |
| OUTREACH | |
meet our scientists
All about Ernest Giralt
In the eleventh video of the series "Meet Our Scientists", we introduce Ernest Giralt, head of the Peptides and Proteins Lab who has a taste for teaching and a passion for music. In the video "The power of medicinal chemistry", he explains his interest in deciphering the language that proteins use to interact with each other since "there are many diseases that are caused by errors in these interactions". Watch the video to find out more!
yomo
La recerca biomèdica des de dins
IRB Barcelona participated in the Youth Mobile Festival (YoMo) during the Mobile World Congress with the workshop "La recerca biomèdica des de dins" (Biomedical research from within). The activity aimed to promote scientific vocation, critical thinking and the responsible use of technology. Students aged between 10 and 14 learned how and why DNA is studied, what genetic mutations are and how they relate to cancer. They also had a chance to use a Light Sheet Microscope built of LEGO to view fluorescent samples and capture images using their own mobile phones.
| | |
| --- | --- |
| BIST | |
BIST NEWS FLASH
A monthly newsletter for the BIST community
In this first issue:
BIST programme to boost female leadership in scientific research
BIST Masters students shine at 2018 Winter School & Symposium
Call open for BIST-UPF Masters students
ICIQ-BIST Leadership and Management Skills Course for Senior Group Leaders
Upcoming Events and Hot off the press
| | |
| --- | --- |
| SOCIAL | |
Sangeet Sabha
An evening of Indian classical music
On 1 February, the PCB community savoured an evening of Indian delicacies and dance. Madhulika Rai, an IRB Barcelona PhD student from Rajasthan (India), approached the Institute with the idea to celebrate the different cultures and traditions present in our community. IRB Barcelona joined forces with Madhulika, and together with IBEC and the PCB, organised this special evening, which also received support from Spic Macay, ICCR, the Indian Embassy and Casa de la India. The Manipuri Dance Group from India performed a series of traditional dances, with eye-catching and colorful costumes. The directors of the organising institutions, Joan J Guinovart (IRB Barcelona), Josep Samitier (IBEC) and Ignasi Belda (PCB), were delighted by the show and the tasty selection of Indian food on offer.
| | |
| --- | --- |
| COMING UP | |
 

Institut d'Estudis Catalans, carrer del Carme 47, Barcelona
Chairs: Joan Massagué (Memorial Sloan Kettering Cancer Center), Salvador Aznar Benitah (IRB Barcelona/ICREA) and Roger Gomis (IRB Barcelona/ICREA)
 

INSTITUT D'ESTUDIS CATALANS, CARRER DEL CARME 47, BARCELONA
Chairs: Renata Basto (Institut Marie Curie), Jens Lüders (IRB Barcelona) and Travis Stracker (IRB Barcelona)